Nepal Telecommunications Authority (NTA) has been working on the Mobile Devices Management System (MDMS) in Nepal for a very long time. All of this started around 2016 when NTA first announced the IMEI registration in Nepal. NTA now uses the MDMS registration system to record IMEI numbers for everyone including Nepali citizens and foreigners. There are many details and important things we need to address on this topic so we have gone through many sources to make this comprehensive guide. This will provide information on the process of MDMS registration in Nepal, import rules, gift mobile, tourist phones, and other use cases.
Let us make a few things clear first. International Mobile Equipment Identity (IMEI) number is a unique number that is different for every device or SIM slot. Mobile Devices Management System (MDMS) is a system of the Nepal Telecommunications Authority that keeps a record of all the cellular devices that are imported into Nepal or are running on the network of any telecom company. This is the key point of this whole thing because MDMS keeps a record of all the electronic devices that can use physical SIM cards or eSIM. It means whether you use NTC, Ncell, or Smart Cell, all devices are on record.
Also Read: Details about IMEI Registration in Nepal: Reasons, Pros, Cons
The government is using this system to keep track of all the devices running with SIM cards on any Nepali telecom networks. The phrase 'Nepali telecom network' is key because roaming is not applicable to this as all international numbers are exempt. If you are a foreigner who has come to Nepal with international roaming then you are using a SIM of your own country. Therefore it doesn't affect international roaming users. However, it affects you if you are a foreigner who has come to Nepal and bought an NTC tourist SIM card.
If you are purchasing a smartphone in the Nepali market, if you are asking your friend to bring a new iPhone for you, or if you are bringing some smartphones for your family members while returning from abroad then it affects you. So there are a few things that you should be clear about. Thus we have collected lots of information to answer your questions regarding MDMS in Nepal and made this article to help everyone.
MDMS Registration System Details: What is MDMS System?
In simple words, the name or full form of MDMS explains itself. Mobile Devices Management System is a digital and central system of the NTA or Nepal government that keeps a record of all the IMEI number of devices that have been imported to Nepal and are running with Nepali SIM cards. The MDMS system has a record of all the smartphones, feature phones, and SIM card supporting tablets that have been imported by official distributors. It also has a record of phones that are imported personally, brought as gifts, and brought by tourists. (Record only exists if you or official importers submit the detail to NTA)
Note: MDMS System is related to devices that use physical SIM cards or eSIM. So if your device doesn't have SIM support or cellular connection support then there is nothing to worry.
MDMS system has many benefits. It helps to track the registered devices if they are lost. It also helps to block them if they are found to be illegal. So we have to understand that registering is important. Therefore the system of MDMS registration in Nepal has been implemented. This MDMS system actually keeps a record of IMEI numbers. So this system also allows individual people and importers to provide mobile device information to get approval for mobile phones. Basically, we just have to be considerate about the IMEI number of phones we will buy or we are using.
The process of building the MDMS system started back in 2016. In 2018, the 'Mobile Device Management System Bylaws, 2075 (2018)' was published. The whole process went through lots of hurdles and finally, MDMS was launched in Nepal on September 15th, 2022. Since then, the entire unique ID registration in Nepal is happening from the MDMS portal. Before the launch of MDMS, the Equipment Identity Register (EIR) portal was in use.
Launch of MDMS System in Nepal
NTA launched MDMS in Nepal on September 15th, 2022 A.D. or 30th Bhadra, 2079 B.S. After the initiation of the system, EIR was stopped and MDMS became active as a soft launch. Then finally MDMS became fully active on May 15th, 2023 A.D. or 1st Jeth, 2080 B.S. So all the IMEI numbers or MDMS registration is happening through the new system portal.
In 2021, when EIR was enabled for this digital and online registration, it was told that NTA is also compiling and adding the details of old phones from mobile phone manufacturers. This was done because people were panicking about older phones. People thought their old phones won't work when MDMS goes live. So people started submitting information and registering their devices through the EIR system.
In order to make it easy for everyone and make sure that no older device is missed out from the system, NTA decided to enroll all devices into the MDMS database that were running with SIM cards or on any Nepali telecom network before September 15th, 2022. Thus any device whether it was purchased from the Nepali white market, Nepali grey market, or abroad became whitelisted. So no one had to register their phone in the system. All running phones would continue to work. This solved all the confusion among people and even us.
The initial effect of MDMS actually started after September 15th, 2022 because that has implications for the purchase of new mobile devices and the import of new smartphones. The major and real effect of MDMS starts on May 15th, 2023 because the system starts in full phase with the cooperation of the customs department.
Also Read: Nepal Telecom FTTH Internet Price
Effect of MDMS on the Purchase of New Smartphones and Personal Import
After the official launch of MDMS in Nepal, NTA has asked people to check the presence of IMEI numbers in the MDMS database before purchasing a new mobile phone. Therefore we can see that there is a direct effect on the purchase practice of new smartphones. So always check the MDMS portal (mdms.nta.gov.np) to confirm the presence of the IMEI number on the system. Purchase the new phone only if the device is registered but not operated. If a new device that is available at the shop is not registered, then don't buy it because it is not from the white market.
How to check IMEI number of a new smartphone on MDMS before purchasing?
Check the box pack of the new smartphone/feature phone.
Find the sticker with IMEI numbers and serial numbers.
Open the MDMS portal on NTA's website.
Click on the box to check the MDMS registration status of the new mobile device.
Enter the 15-digit numbers of the device on the portal.
If your device has been imported through a legal channel by an official distributor then the system will show a message that the device has been registered in the system and is not in use. However, if your device isn't officially imported then it will show that your device is not registered and will advise you to not purchase it. If you are purchasing a second-hand device that has been registered then the system will show a message that the device has been registered and is already active.
A shop in Nepal should only sell you genuine and MDMS-registered smartphones. Therefore when you check the presence of a new smartphone in MDMS, it should be registered and not active because that indicates a fresh piece.
Do Nepali mobile shops only sell genuine smartphones? Can they sell grey smartphone models?
This is a very important question that needs to be answered. Most of the smartphone sellers or mobile shops only sell genuine smartphones in Nepal. This is because of the presence of official channels, distributors, and companies. For example, "Delta Digit" is a mobile brand based in the USA and the company sells in Nepal too. As there is an official presence in Nepal, the company imports with help of importers and distributes to retailers through national or regional distributors. Therefore a normal customer buys a smartphone from any company at a retailer or e-tailer.
The shop owners or retailers are related to this chain and they are the most important part of the entire retail chain. So the mobile shops just sell what the company gives. They sell at MRP or sometimes less than MRP by cutting their own profit margin. As the shop is tightly linked with the company, they don't risk their business and relation with the company by selling grey products of the same company even though they may make more profit on grey products. That is why mobile shops in Nepal do sell original smartphones imported by white or official channels for major brands.
We are focusing on the word 'major brands' because that is important. If a company has an official presence and shop owners are linked with the company, they don't sell grey products of those brands. However, if the company doesn't do business officially in Nepal then the shop owners sell grey products of those brands. There are many shops that sell grey products by importing without official channels.
Also Read: Best Internet Service Providers (ISP) in Nepal
By the way, grey products or smartphone refers to those models or smartphones that were imported or brought without using the official way defined by NTA. There is also a big discussion on what are grey products and what are legal ways. Now regarding the topic, the special case of grey smartphones comes for exclusive smartphone models whose company presence is not here. For example, there is no official presence of Google for Pixel or ROG smartphones. Moreover, there is the most important case where there is a distributor but grey products are also available. An example is iPhone sales in the market.
We see that many online sellers and offline sellers sell unofficial products in grey markets by importing them from various channels. They may be legally imported by opening an LC through banks and paying taxes but they may also be imported in unofficial ways like asking people arriving from gulf countries or foreign. They may even be imported by skipping customs and taxes at the border. In case of legality, if anyone imports smartphones using an international online payment system like LC, or TT and pays VAT, tax, customs, and duties then they can legally sell smartphones and become sellers.
So there are various cases of import. But most importantly we have to understand what NTA defines as the white way or legal way because there is a big confusion. In this, there is a big hurdle of "Type Approval". So even if a business house imports by paying taxes they must go through a process or "Type Approval". Actually, a business, importer, or company should take 'Type Approval' from NTA first and then only begin the import process. But this is not applicable to smartphones brought for personal use.
Personal Import, Gifts, and Registering Grey Smartphones in Nepal
This is the most important part which needs better discussion because there has been much confusion and rumors about it. Everyone and mainly people working abroad in Gulf countries were very confused about this. A lot of discussions also happened on TV where a point was raised that Nepal wants the remittance of workers but doesn't allow gifts they bring for family members. That is definitely a good point because when Nepalese immigrant workers come to Nepal, they bring smartphones for their children, relatives, and loved ones. So making them pay taxes on those is felt like a disrespect by workers.
NTA has clearly said that they aren't prohibiting Nepali migrant workers from bringing smartphones for their family and friends. This is totally allowed and it is true. So you can be clear because NTA is not prohibiting bringing smartphones when you go outside and return back to Nepal. Therefore you can also send a new smartphone or mobile phone to your family members and friends. Thus there are no restrictions on smartphones that are brought to Nepal as gifts. However, there are conditions applied on quantity and person who brings it.
Limitation on personal smartphone import and gifts
Registering IMEI number of mobile phone device in MDMS requires a customs declaration certificate. As declared by NTA, bringing smartphones or gifts for personal use is totally allowed. They are not restricting it and NTA is not charging fees or duties for registering IMEI numbers in the MDMS system. NTA will register the smartphones for free if they are brought through legitimate ways following the freedom provided by Open General License (OGL) in Nepal. However, the restriction that comes into play is from the customs department and import rules.
First, we have to understand that the Nepal government only allows us to import goods or things that are legal. So we know that smartphones and tablets are legal because they are definitely not contraband. After this, we need to refer to the customs rules of the Department of Customs or the Ministry of Finance. On the website of the Department of Customs, we can find rules regarding what Nepalese passengers returning from foreign countries can bring.
The notice regarding Baggage Rules, 2016 states that each passenger can bring one piece of mobile phone, pen drive, video camera, still camera, and one piece of laptop or tablet, or computer without paying customs duty. You can also read more on the Customs Act, 2064 of Nepal. More details on customs exemption are given in the act and for better updates, read the latest update from Nepal Rajpatra or Gazette.
This gives understanding to normal people that, bringing a new set is free of customs. Let us suppose a Nepali goes to the USA for a conference with his old phone, and while returning he gets a brand new iPhone. So naturally, the phone that was bought in Nepal is already exempt because that has been paid for in Nepal. So we expect that the new one that was bought in the USA is exempted from customs duty by using the order of the Customs Act.
Customs Exempt Only for Migrant Workers
On May 9th, 2023 A.D. or Baisakh 26th, 2080 B.S., the council of ministers decided to allow migrant workers to bring one new phone with them without paying customs and VAT. Immediately after the decision, Depart of Customs also published a notice clarifying the matter. According to the decision of May 9th, 2023 A.D. and notification, only migrant workers with working visas who have continuously worked in foreign countries for more than 6 months can bring one more extra phone with them without paying customs.
However, Nepalese who don't have working visas can't enjoy the customs exemption. Thus, after the implementation of MDMS and new customs notice, people have to pay 5% customs + 13% VAT (~19% cumulative) on the new smartphone, they bring to obtain a customs declaration certificate or 'संक्षिप्त प्रज्ञापन पत्र '. However, people don't have to declare or pay customs for a phone they are using. This means the one phone for personal use in the passenger's pocket is free to bring.
Clarification on Various Scenarios of Workers and Nepali: Important Cases
There are many questions from people and we want to explain to them the various cases. First of all, there is the case of Nepalese citizen migrant workers who have gone to Dubai, Qatar, Malaysia, Australia, the Gulf, or anywhere abroad with a phone purchased in Nepal. Suppose you go with your old phone from Nepal and return with the same old phone and a new iPhone. If you were working for more than 6 months and have a working visa then the new iPhone will be customs-free. In the case of older phones, there is no need to declare that in customs.
The second case is where a migrant worker goes abroad but comes after a long time. In such cases, the older phone that a migrant worker had taken from Nepal could be damaged or slow. Thus the worker buys a new smartphone in a foreign country. Then while returning, the worker also might bring a few extra phones for family members. In such cases, the worker should tell the customs officer about the phone currently in use and new phones. The customs should allow the phone in use and will make a customs declaration certificate for free for a new smartphone. So the old phone in use is naturally exempt and one new phone is exempt according to customs notification for workers. However, if the worker has more than one new smartphone then the officers will may seize the phone. Bringing many phones is not allowed as it falls under commercial import and that requires taking EXIM code which is a whole big complex process.
For all other people who are coming back to Nepal, there is no exemption except for one phone that the passenger is already using. So if you have a student visa or tourist visa and you are bringing a new smartphone with you then you need to pay all the duties and VAT for getting a certificate so that MDMS registration can be done. Bringing more than one new phone is not allowed now for anyone.
People who need to pay the customs and VAT calculated by officers can clear the device and get a declaration certificate which is required for MDMS registration.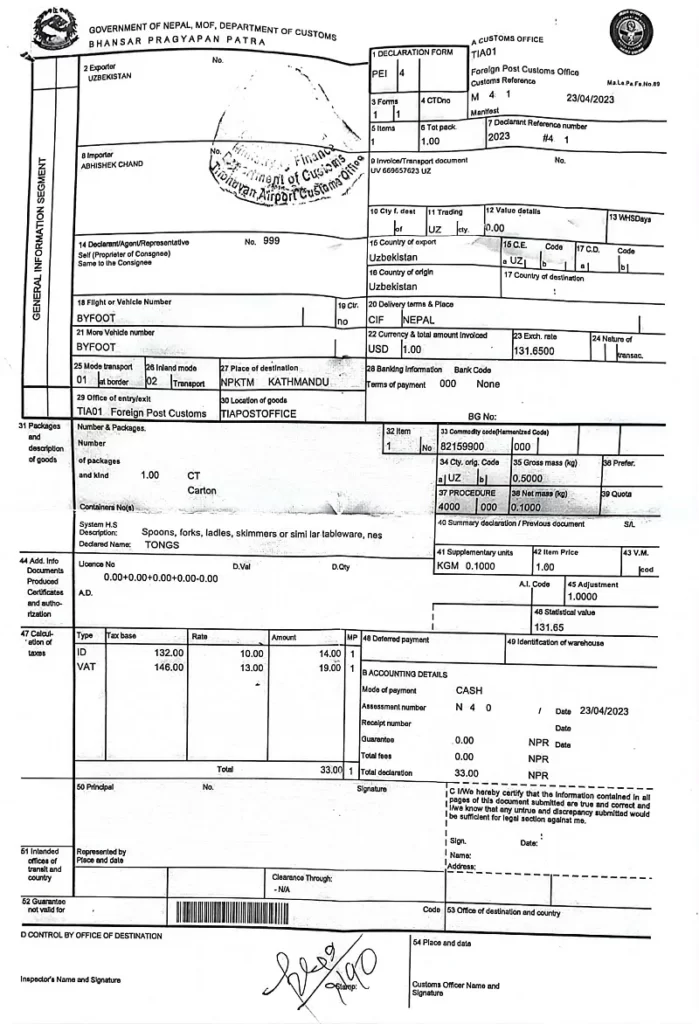 By the way, many people used to bring a few more smartphones by hiding so there is that case, but now you wouldn't want to do that. This is what NTA is also saying because they are not interfering in the personal import and smartphones that are brought as gifts. However, the MDMS in Nepal is definitely forcing people to pay duties because people who used to skip custom clearance by hiding and not declaring customs won't be able to register their IMEI number in Nepal because the proof is needed to register more phones in MDMS if you have brought more than one new handset.
This is where the compulsion and link between the Department of Customs and NTA come into play. So NTA is not charging but custom duties are being made compulsory for registering mobile phones because that is the only way one could legally bring multiple mobile phones. This is how the government plans to earn the lost revenue through taxes and duties.
The MDMS and customs rules are also limiting the import because people can only bring phones by paying 13% VAT and 5% customs (19% due to cumulative effect). So people are forced to purchase smartphones in Nepal because the personal import limit has been reduced.
Also Read: Latest Mobile Price in Nepal
Requirement of IMEI Number Registration using MDMS System
Nepal Telecommunication Authority has now made it compulsory to register all the IMEI numbers in the MDMS system. We have already explained the pros and cons of IMEI registration in another article. We have also discussed the type of listing NTA does such as whitelisting, greylisting, and black listing. In addition to all those, here are some major things that you should know about MDMS in Nepal.
All the smartphones, feature phones, mobile devices, tablets, and laptops that were using Nepali SIM cards or were active on a Nepali telecom network before September 15th, 2022 A.D. or 30th Bhadra, 2079 B.S are whitelisted.
There is no need to worry about older devices that you were using before September 15th, 2022.
People who have been using unregistered phones till May 29, 2023, need to do grey registration before 17th July 2023.
As of September 16th, 2022, we all Nepali consumers must check the IMEI numbers of new or old smartphones on the MDMS system before purchasing.
All the companies and importers that bring and sell smartphones or mobile phones in Nepal should first take 'Type Approval' from NTA and then only start the import process. Before selling the smartphones, the companies should also submit details of the devices for the MDMS registration process.
People who bring smartphones from abroad for their personal use, or who bring gifts for their family members also need to pay customs and register their devices in the MDMS system. As explained above, NTA requires registering the mobile phone in MDMS even if you bring one device by paying customs plus taxes. You don't need to register a genuine white market phone you bought in the Nepali market because the company has already done it for you. It is expected and required by the company to only sell the registered devices. Still, every consumer is requested to check the mobile themselves before purchasing just to be double sure.
Even foreigners or tourists who come to Nepal and use Nepali SIM cards or eSIM should also go through the MDMS registration form.
Any importer who is importing smartphones of a brand whose company is not officially in Nepal should take 'Type Approval', pay all the necessary VAT, duties to the government, and do MDMS registration. This point allows the open market to flourish but there is one thing that also benefits the companies already present in Nepal. We shall discuss this below in another section.
In our article, we are just discussing the ways for registering mobile phones in MDMS for normal Nepali users, NRN, and foreigners. We are not going into the process for importers and companies because they directly deal with NTA and have multiple channels to get their work done.
How to Register Mobile in MDMS System: (How to Register Mobile in Nepal using IMEI?)
The NTA defines grey smartphones as those phones which are not brought through legal way. They also define grey smartphones as those devices which are not registered in MDMS. So if you have brought a new smartphone with you from abroad, or you have sent some models to your family member, or even if you just brought your own running mobile phone that you brought abroad with you, it is grey. This is how the system of MDMS sees. Therefore even if you paid customs, until the device is registered in MDMS in Nepal, they are all grey.
So if you also have a grey smartphone then you need to register its IMEI number in the MDMS system. You can easily register any mobile in the MDMS system online. You can even register after coming to Nepal because there is a grace period. If you are a migrant worker who has come for a few months' holidays or if you are a tourist then you do get a grace period. The duration of the grace period is sent after you load a Nepali SIM card into the mobile phone that is not registered. During the grace period, you can easily make calls and enjoy the telecom services but after that, you need to register.
Whether you got a gift smartphone or brought a phone to use in Nepal permanently or whether you have come to Nepal for a limited time, you can follow the below-given steps to register your mobile phone in MDMS using the online MDMS registration form. Just follow the below-given steps.
Go to the MDMS portal of NTA (mdms.nta.gov.np).
Click on the checking box to check if your device is registered or not.
When you enter the IMEI number of the unregistered device, the message will say that it is not registered and it will ask you to follow the registration link.
Open the MDMS registration form link or so-called "Individual Registration". (mdms.nta.gov.np/individual-registration/validateImei). The link is for individuals because the process for registering and taking type approval by companies is different.
Enter IMEI number/s, Brand (company), and Model number and tell if you are using the device or not. Validate the IMEI and continue.
Enter your official email address and provide the OTP that is sent to the email address.
Provide arrival details, country of arrival, personal information, address details, and mobile user details.
In the next step, check all the information you filled in because it is shown again.
Also, attach .jpg or .jpeg file for three documents.

Purchase receipt, bill, invoice
Passport of the applicant or who brought the phone
Passport page with immigration stamp
Citizenship, Bill of purchase, and Customs Declaration Certificate "संक्षिप्त प्रज्ञापन पत्र"

Agree to the declaration which says that the phones in the application are legal, genuine and they are for personal use only.
Submit the form and wait for the approval and whitelisting.
Summary of the Process
If we see all of this, we can understand that we just need to buy an original smartphone from abroad and bring it to Nepal for registration. The phone should not be stolen or claimed as stolen. In the past, some people abroad used to get smartphones in contract from their service provider. Then they used to send it to Nepal and claim insurance abroad to get a new phone. Well, that can't be done because NTA is working to involve international blacklisting as well. It is because such devices that have been claimed as lost or stolen are illegal.
Also Read: Samsung Galaxy Tab Price In Nepal
Now if you bring just one new smartphone, you need to pay 18% (~19% because cumulative 13%+5%) taxes at customs. However, if you just bring your old phone with you abroad then you still have to declare it in customs and get customs clearance for free.
Grey Listed Mobile Registration by Paying Money to the Government
On Jeth 15 2080 B.S. or May 29, 2023, "आर्थिक विधेयक २०८०" stated that people who have been using unregistered cellular devices till Jeth 15 2080 must register their devices in MDMS by paying a lumpsum amount till Asadh 31st, 2080. The government has approved a lumpsum amount for different values of phones.
| | |
| --- | --- |
| Brand/Details | Amount to be paid |
| Apple iPhones/ Apple Cellular Devices | Rs 10,000 |
| Any phone that costs Rs 1,00,000 and above | Rs 10,000 |
| Any smartphone that costs less than Rs 1,00,000 | Rs 3,000 |
| Any other mobile | Rs 200 |
In the past many people were confused because they bought phones from abroad but didn't pay customs at the airport or land border. So they were facing trouble while registering in MDMS because they didn't have a customs declaration certificate. Now the government has given an ultimatum to do the registry. Follow the below-given steps to perform MDMS registration of grey-listed smartphones in Nepal.
Go to "https://mdms.nta.gov.np".
Check if your IMEI number is registered in MDMS or not. (Dial *#06# and get your IMEI from the phone).
If you have a customs declaration certificate, passport/citizenship then go through the normal process given above. Else go to "https://mdms.nta.gov.np/registration-options" and choose Grey listed mobile registration. It is also given on the "Registrations Portal" that is available on the homepage of the MDMS portal.
Prove all the information such as Name, Address, IMEI number, Contact, and PAN.
Proceed to the next step and start the payment procedure.
Make payment using Esewa, Khalti, or Connect IPS.
After successful payment, the mobile is registered on MDMS.
How to register smartphones bought in India? MDMS registration for phones brought in Nepal from India
The MDMS only asks for a scan of the bill, passport, immigration stamp, and customs clearance certificate. The system allows using both Passport and Citizenship for registering IMEI numbers in MDMS for smartphones brought from India. In the case of India there are two options, first is using Citizenship and next is using a passport. The citizenship option is for people who buy Indian smartphones and bring them through the land borders in Terai and Hills. The passport option is for people who come to Nepal through Airport from India.
As we don't need a visa or passport to travel to India, we can get the passport stamped at the land border. This is the most tricky thing because most people travel by land route and only a few people travel by air route. Therefore NTA allows Nepali citizens to attach a bill of purchase, citizenship certificate, and customs declaration certificate or "संक्षिप्त प्रज्ञापन पत्र" for application of MDMS registration or IMEI registration for smartphone bought in India.
So if you bring a smartphone from India by airplane then you can just upload your bill, passport scan, immigration stamp, and customs certificate. However, if you bought a new smartphone from India and enter through any land border, then you need to find the customs office and get a customs clearance certificate after filing the declaration form. Even if you are coming from a land border, do declare your mobile phone and new mobile phone at customs. If the old phone you carry has been bought in Nepal, then there is no need to declare it.
MDMS for Returnees, Tourists, and International Roaming Service
There is actually a serious case of returnee Nepalese people. If anybody is returning from abroad permanently or for a longer stay with a new phone and wants to use Nepali SIM, then it also needs to be registered. The phones will work till the grace period but after that users need to register. Therefore do bring the bill of purchase to Nepal and declare it as a personal old phone at customs. A passport copy and immigration stamp are also necessary but those are things that everyone has. As nobody travels without those, we don't need to worry about them.
A tricky problem for tourists also arrives with the new MDMS and IMEI registration system. Many foreigners come to Nepal with their phones. Some people have SIM cards of their own country while some take tourist SIM for a limited period. As far as we know, people with SIM cards from their own country and using international roaming services don't need to register in MDMS. For example, if a person comes to Nepal from India with roaming activated SIM of Jio, Airtel, Vi, BSNL, etc then they don't have to go through the hassle. So it is better if you come with international roaming enabled.
Actually, international roaming charges are very expensive. So tourists prefer buying tourist SIM cards and using them. Here, the case is different for tourists who buy SIM at the airport or any other place. Those users with Nepali SIMs on their own phones that were brought from abroad will also need to register within a time frame. This can be problematic for many tourists.
For example, let us suppose you are coming to Nepal from the USA to stay for one month and shoot a documentary. You bring your iPhone 14 Pro Max with you and you purchase eSIM at the airport. Then for a few days or the 'Grace period,' the SIM will work. It can be a week or maybe fifteen days. The NTA server or MDMS will send a message about the duration of the grace period and its expiry. In order to be able to use Nepali telecom service after the grace period, you also need to register your iPhone in MDMS by following the procedure given at (mdms.nta.gov.np).
Process of MDMS Registration in Nepal for Tourists and Foreigners
Go to mdms.nta.gov.np and enter the IMEI number of your phone to check. As the phone is not registered, the system will prompt for registration.
Click on the link for "Individual Registration".
Select the section for "Foreign Applicants".
Follow the same process as given in the steps for the registration of phones for Nepali citizens.
Provide details regarding personal information, arrival, and visa validity.
Just upload the scan of your passport and visa.
Submit and wait for approval
A Concern on Probable Issues: Monopoly, Price Hike, Deterrence
Till now we should be clear on the entire process of how to register IMEI number in Nepal using MDMS for personally imported phones. This implementation of MDMS and making people to pay customs, taxes, and VAT helps the Nepal government to earn more revenue. However, the migrant workers do have a request and a complaint. As per the rules of the Department of Customs, people can only bring one new smartphone and tablet without paying taxes or customs. For additional new devices, everyone and even workers need to pay the duties.
Import for Personal Use by Migrant Workers and Definition of Import for Trade
Migrant workers are saying that one smartphone or mobile phone is not enough because a family member is not just one. The family has parents, wife, husband, children, siblings, their families, and even friends. As it is obvious that almost everyone hopes to get some gift or cheap electronics from abroad. It is not actually possible to bring for everyone but a worker should be allowed to bring a few more devices without paying taxes and customs. The Nepalese migrant workers say that they already send so much high remittance to Nepal, and they also pay before going. Therefore the state should think of them and at least do justice by levying taxes.
We have to admit that remittances sent by workers play the most important role in our forex reserves and GDP. As the workers are only demanding that the limit of exemption be increased to justifiable or reasonable from the limit of just one new mobile phone. Now the conundrum and conflict start at this point. This is where the importers, business houses, companies, and government come to play. Migrant workers want to bring more phones without paying customs duties and taxes for their families. On the other hand business and mobile importers are against it. It is because they say that a higher amount of imports is trade level and not personal.
So the conflict is between the definition of import for personal use and import for trade. Migrant workers just want higher limits so that they can give mobile phones, tablets, and laptops to their families. They feel that it's the least state should do for their contribution. On the other hand, mobile phone importers, sellers, and companies accuse migrant workers of filling the grey market. They say that migrant workers come from abroad and bring cheap phones then instead of using them or giving them to family and friends, they sell them. Thus those imports become imports for trade and thus the sale of phones brought through the white channel by companies or importers is affected.
Also Read: Latest Desktop Computer Price in Nepal
Type Approval, Monopoly and Price Competition
Since the implementation of MDMS in Nepal the topic of monopoly and 'Type Approval' has come to highlight. Actually 'Type Approval' was happening for a long time. Any company that was interested in launching a new mobile phone in the market would need to submit its specification, details, and handset for testing. NTA would then provide approval for importing and launching the device in Nepal. It seems fair for business houses but not possible for personal use. Therefore we can see that the MDMS registration form for IMEI number registration just asks us to submit the IMEI number, brand, and model number when we go for personal or individual registration.
In this 'Type Approval' requirement, the term monopoly has been discussed by many people and media houses. People fear that price hikes can happen because now companies have control over what they want to bring and not bring. In Nepal, many brands are officially present with their corporate office, distributors, and retail chain. They always decide which phones to import and which phones to not import. In reality, an international brand launches many phones but the Nepalese branch just brings a few to market. They don't bring every model because they are not required to because no one can pressure them.
So we have seen that companies bring some models which ultimately give very less choice to Nepali consumers. Thus people are forced to purchase whatever they get. There is no variety of options. Moreover, we have also seen that many times mobile companies in Nepal bring devices that have higher profit margins instead of bringing mobile phones with better value and hardware. In our neighboring country of India, we see some mobile phones being launched with exceptional hardware for the price. Those are devices that have less profit margin but better value for customers.
Now as the companies have an official presence and if a third-party importer or business house needs 'Type Approval' to bring many such smartphones, there is fear that the companies would not allow the interested importers to bring such models. So even if a business house or shop wants to bring a better value smartphone or tablet to Nepal and sell it they will have to go through lots of hurdles. Also, we can understand that the company won't allow others to bring competition because that could tarnish the image of the brand and also eat away at their sales or profit.
This is the reason why people fear there can be a price hike. As there are very few chances of open market competition, companies can bring whatever they like and raise prices how much they want because people have no choice at all. Other sellers will have a hard time importing competitive models. Other sellers can't bring the same model which has been given type approval because then there will be a conflict between the brand and retailer. A retailer or shop never wants conflict between a brand or company because that can hurt relations and affect the supply of phones in the future.
Conclusion
In order to summarize the most important things of this whole article about IMEI number registration using the MDMS registration form or portal, we need to list them for ease of you or the readers.
Every mobile phone, smartphone, tablet, or laptop that has SIM/eSIM/RUIM feature needs to be registered in MDMS with its IMEI number. This is only required if you want to enjoy network services. If you just want to use WiFi or LAN then there is no need to register.
Always bring the bill, receipt, or invoice to show as proof of purchase if you bring mobile phones, smartphones, and tablets for personal use to Nepal. Registration is required if you are bringing those devices permanently or for a time longer than the grace period.
Tourists with international roaming don't need to do MDMS registration.
If you bring mobile devices from any country, you need to submit your passport and immigration stamp to NTA at the MDMS portal for registering IMEI numbers. If you are bringing a smartphone or tablet from India, do get customs clearance certificate at the border.